Silicone & Teflon (PFTE) Belts
A conveyor belt, as we know, is a continuous loop of material that rotates around two or more pulleys. Conveyor belts are used for shifting / transporting material from one end to another. Belts are made from materials like rubber, steel, technical textiles etc. 
We were one of the first companies in India to develop a matrix of two materials – PTFE + Fiberglass. PTFE Coated Glass Cloth is an immaculate matrix of the excellent physical and chemical properties of both the constituents. Controlled manufacturing process and rigid inspection procedures give right quality of material that is capable of resolving a wide range of problems. We excel in the line of the manufacturing PTFE Coated Fiber Glass Fabrics that are used to make conveyor belts for high temperature applications.
We carry 17 years of experience in manufacturing special grades of PTFE Coated Glass Fabrics and a wide variety of intrinsically engineered conveyor belts. Surely there is a belt for your specific and demanding requirement.
PTFE Coated Glass Fabrics used to make Conveyor Belts possess excellent non-stick and high tensile properties. They are non-toxic, non-wettable, and immune to fungus and hence are highly recommended for applications in the food industry. These belts operate in temperatures ranging from -200˚C to +280˚C. Unsurpassed dielectric properties, make our belts the only suitable choice for use in Micro-wave ovens.
Sealed or sewn edges safeguards and protects both the edges of the belt during operation preventing the edges of the belt from fraying. Belts can be supplied with tracking devices like Guiding Buttons or Kevlar Profile on one or both edges. Such tracking devices prolong belt life by preventing edge damage caused by incorrect tracking.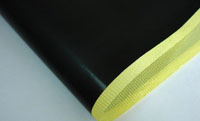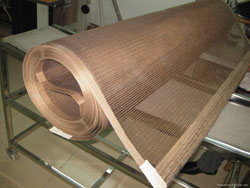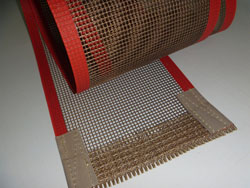 APPLICATIONS

Conveyor belts for baking & food processing
Microwave cooking
Confectionery conveying – chocolates, biscuits etc.
Belts for packaging equipments
Soap Industry
Shrink – wrap tunnel belts
Fuse pressing belts used in apparel production
Collar-fusing and cuff-fusing
Infra-red curing of printed materials
Relaxed dryer
Compacting machine in knitting
Rotary printing machine
Belts to carry through UV Curing ovens
Continuous casting of polyurethane
Belts for re-soldering and ink drying on PCB
Rubber extrusion – Rubber foam processing
Photo print drying

KEY BENIFITS

Very low friction
High abrasion resistance
Confectionery conveying – chocolates, biscuits etc.
Belts for packaging equipments
SWorking temperatures
Heat resistant up to +260° C
Cold resistant down to -70° C
Chemically inert – even at extreme temperatures or when in contact with most corrosive chemicals
Optimal airflow due to open mesh design
Easy cleaning due to non-stick PTFE coating
EC 1935/2004 and FDA food-grade compliant