PU PVC Belts
PVC CONVEYOR BELT
PVC (Poly Vinyl Chloride) Conveyor Belts, with single or multi plies, have a high application in various light, medium and heavy industries, including electronics, Food & Parma, Bakery & Confectionary, Meat & Poultry, Packaging, Wood working, Glass, Ply & Board, Automobile, Health & Fitness, just to name a few. We are Dynamic Industrials have the requisite expertise and experience to offer our clients superior range of imported conveyor belts such as PVC conveyor belts. We have facility of vulcanized joints, fused sidewalls and cleats, tracking profiles to serve for elevating conveyors for food or other products. Made from premium grade of PVC material & fabric carcass, our PVC conveyor belts are happily being implemented and installed throughout various industries in India & other parts of the world.
PU CONVEYOR BELT
Thermoplastic polyurethane (TPU) which SVB's uses for the coating of its belts has many outstanding properties. Obviously  the TPU's wear resistance - which is far greater than any other plastic or rubber materials (or even steel!) - makes it the most prominent candidate for the coating of conveyor belts for all types of industries. Chemically inert and extremely resilient, this innovative material is now also used for example as the base material of fully implantable artificial hearts, withstanding at least 180 million beats over a 17 year period ! Safe and durable, polyurethane simply outlives the product life span it is used in.
We develop and manufacture a wide variety of PVC and PU Conveyor and processing belts. We produce conveyor belts for virtually any light, medium or heavy application.
Standard or custom made conveyors or standard range consists of more than one hundred types. In close consultation with us and their customers, we have a large number of custom types developed. Besides these products we manufacture and supply a large range of accessories. To meet every challenge, we keep continuously working on research, innovation and improvement.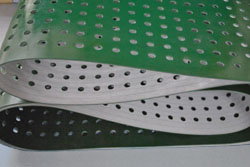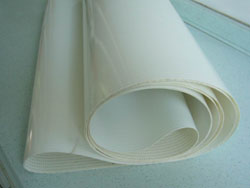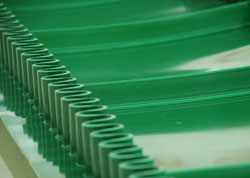 Excellent quality for application in the food industry
Many conveyor belts, which we produce are highly oil and wet resistant and are therefore particularly suitable for use in the food industry. They can be Thanks to the composition of raw materials of these belt conveyors used for the transportation of bulk food items. These belts are manufactured in accordance with the strict guidelines of the 3A standard, the US Food and Drug Administration (FDA), US Department of Agriculture and the European Union (EU).
These have wide applications like Food Industry, Packaging Industry, Beverages and Processing Industries. These are available in Blue, Green, and Grey, white and Black in width of 10 to 2000 mm. these have ply of 2 to 5 which vary with application.
The profiles and walls can be attached to the conveyor to guide the belt along the path and hold the materials without falling on sides. The side walls are mainly used for take of conveyors where the materials have to travel up in height. So these walls hold the materials against the gravity.
The PVC belts have wide variety of top surface patterns like Rough top, Pimples pattern, Smooth, Diamond pattern , Nipples pattern and super grip patterns.
Benefits for SVB's polyurethane (TPU) and Poly vinyl Chloride (PVC) coated conveyor belts :
non-porous and chemically  inert material that is particularly suited for food industry applications
Health and direct food contact : free of any plasticizers and controlled  by specific migration test in EU authorized laboratory
EU / FDA approved and tested for contact with foodstuff
Excellent resistance to animal, vegetable and mineral fats
Superior cut, tear and abrasion resistance
Excellent performance in a cold environment
Colours : white, blue, transparent, black and blue-green
Service life; there is a great potential to increase it : please contact us
Width : 2,000 mm (2,500 mm for certain belt types)
The PVC belts are Cold joined using adhesives or heat vulcanized at temperature of 100 C or fastened using fastners.