Multi Poly V Belts
Poly-V Belts

Multi-Pull Ribbed Poly-V Belts have 40% higher power carrying capacity over conventional V-belts. Single flexible low stretch belt drive eliminates necessity for multiple / matched set belts. The continuous high tensile synthetic cord makes maximum utilization of the face width and ensures a uniform tension throughout the belt. Poly-V belts give lesser wear and longer life to the pulleys & bearings due to lesser static tension and belt slippage.
There are five sections available:

PH - Fractional Horse Power belt for very light duty applications.
PJ - Low cost belt for light duty applications.
PK - Designed specifically for the automotive industry, it is also suitable for Machine Tool drives etc.
PL - Medium duty drive belt covering a wide range of applications.
PM - High performance makes this belt unrivalled for heavy duty applications. Tests have proved that these belts are capable of saving energy of upto 7% compared to conventional V-belts / Flat belts.
Features
Compact Drive
POLY-V belt is highly flexible and hence can be used with smaller pulley diameters to give a lighter and compact drive.
Higher Power
40% higher power rating per unit width compared to conventional V-belts.
Zero Slippage
Almost eliminates the slippage due to maximum wedge contact on the pulleys.
Energy Saving
Maximum returns with energy saving upto 4 - 8%.
Rear Side Drive
Being thinner the rear side can be used to drive additional accessories / idlers without affecting life.
Higher Bearing Life
Lesser static tension gives higher bearing life.
Silent Drive
Gives vibration and noise free power transmission in every application.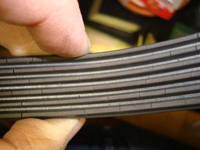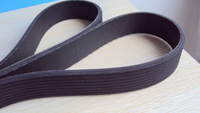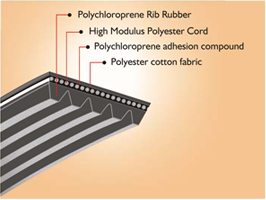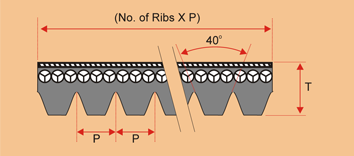 | | | | |
| --- | --- | --- | --- |
| Section | Pitch(p) (mm) | Thickness(t) (mm) | Max no of Ribs/sleeve |
| PH | 1.60 | 2.90 | 24 |
| PJ | 2.34 | 3.80 | 24, 36, 48 |
| PK | 3.56 | 4.50 | 24 |
| PL | 4.70 | 7.00 | 50 |
| PM | 9.40 | 13.50 | 40 |
Single Belt
Eliminates the necessity to use multiple / matched set Belts.
Higher Speed
Can be used at higher speed more than 40 m/sec.
Longer Life
Gives lesser wear and longer life to the pulleys due to lesser static tension and belt slippage.
Low Downtime & Replacement Cost
Reduces downtime and also belt replacement cost.
Serpentine Drives:
Multi-Pull is a flexible belt and can be reverse bent round a pulley. The outside of the belt can be used tc drive. This enables Multi-Pull to be used on Multi-Pulley or Serpentine Drives.
FENNER MULTI-PULL POLY-V BELTS
STANDARD BELT LENGTHS
PH
Effective Length
mm
inch
1321
1346
1372
1397
1422
1473
1549
1588
1664
1753
1854
1892
1905
1930
1956
1969
1981
1994
2007
2032
2057
2083
2108
2134
2159
2184
2210
2235
2261
2286
2311
2337
2362
2388
2413
2438
2464
2489
2515
2540

52
53
54
55
56
58
61
62.2
65.5
69
73
74.5
75
76
77
77.5
78
78.5
79
80
81
82
83
84
85
86
87
88
89
90
91
92
93
94
95
96
97
98
99
100

PJ
Effective Length
mm
inch
483
508
559
584
610
660
711
724
762
813
864
914
940
965
1016
1054
1092
1105
1118
1130
1143
1168
1194
1219
1232
1245
1270
1283
1295
1308
1321
1346
1372
1397
1422
1473
1549
1588
1651
1664
1753
1854
1892
1902
1956
1969
1994
2083
2210
2264
2286
2337
2388
2438
2489
2540

19
20
22
23
24
26
28
28.5
30
31
34
36
37
38
40
41.5
43
43.5
44
44.5
45
46
47
48
48.5
49
50
50.5
51
51.5
52
53
54
55
56
58
61
62.2
65
65.5
69
73
74.5
75
77
77.5
78.5
82
87
89
90
91
94
96
98
100

PK
Effective Length
mm
inch
610
660
673
686
699
711
739
762
775
790
818
841
871
884
902
914
927
940
955
970
991
1016
1031
1054
1080
1110
1146
1166
1194
1229
1257
1295
1334
1359
1387
1425
1461
1496
1529
1560
1626
1659
1681
1725
1760
1796
1829
1862
1900
1930
1948
1961
1981
2050
2101
2144
2205
2258
2329
2385
2441
2479
2522
2586
2611
2680
2835
2845
2896
2921
2997

24
26
26.5
27
27.5
28
29.1
30
30.5
31.1
32.2
33.1
34.3
34.8
35.5
36
36.5
37
37.6
38.2
39
40
40.6
41.5
42.5
43.7
45.1
45.9
47
48.4
49.5
51
52.5
53.5
54.6
56.1
57.5
58.9
60.2
61.4
64
65.3
66.2
67.9
69.3
70.7
72
73.3
74.8
76
76.7
77.2
78
80.7
82.7
84.4
86.8
88.9
91.7
93.9
96.1
97.6
99.3
101.8
102.8
105.5
111.6
112
114
115
118

PL
Effective Length
mm
inch
1270
1334
1372
1397
1422
1473
1562
1613
1664
1715
1803
1842
1943
1981
2019
2070
2096
2134
2197
2235
2324
2362
2477
2515
2705
2743
2845
2896
2921
2997
3086
3124
3289
3327
3493
3696
4051
4191
4470
4623
5029
5385
6096
6121
6883
7645
8407
9169
9931
10693
12217
13741
13970
13995

50
52.5
54
55
56
58
61.5
63.5
65.5
67.5
71
72.5
76.5
78
79.5
81.5
82.5
84
86.5
88
91.5
93
97.5
99
106.5
108
112
114
115
118
121.5
123
129.5
131
137.5
145.5
159.5
165
176
182
198
212
240
241
271
301
331
361
391
421
481
541
550
551

PM
Effective Length
mm
inch
2311
2388
2515
2692
2832
2921
3010
3124
3327
3531
3734
4089
4191
4470
4648
5029
5410
6121
6883
7645
8407
9169
9931
10693
12217
13741
13970
13995

91
94
99
106
111.5
115
118.5
123
131
139
147
161
165
176
183
198
213
241
271
301
331
361
391
421
481
541
550
551

Sizes not listed can also be supplied subject to minimum order quantity.Consult fenner